Lazy Bartender By Drinksdirect.NG
GenZ Drinks Guide For House Parties
What's a house party without a bunch of young and vibrant people with vibes, a beautiful ambience that encourages networking, good music, games, food, and most importantly drinks and beverages to sip on! Food doesn't even stress you out as half as choosing the perfect drinks that will resonate with your GenZ audience. Drinks are refreshing and relaxing and they help set the mood for the evening, hence why this aspect is a "thread careful" path. Drinks are pretty much essential, as these young demographic have an interjecting preference when it comes to choice of drinks, which makes it a very daunting task for the planners.
If you notice closely, you will find that almost every party includes two sets of people- one who enjoys alcoholic drinks and the other relishing mocktails and juices. Hence, as a host, you should always keep a variety of options to cater to your guest's needs. However, in this pool of possibilities, a few beverages hold a constant place in almost every party due to their versatility. Such beverages include sodas, juices etc.
We carefully Hand-picked the top 5 (five) drinks that should make it to every house party, and in the case where you don't get to see these drinks at any house party just know you're not up for a fun time.
1. TEQUILA
It's not even a topic that is up for debate, that tequila kick-starts any party. Tequila is a spirit rich with complexity and subtleties, and it becomes more enjoyable the more it is understood and appreciated. And sharing the bold flavours of tequila at your party guarantees memories that won't fade off so easily.
Tequila is consumed in a specific order at parties, usually gulped in shots, alongside salt, and lime. The mantra to remember is "lick, gulp, suck": Lick the salt off of your hand first, drink the shot swiftly, and finish by sucking on a wedge of lime. This method is a hit at parties and adds a bit of fun to a gathering and can also kick start your guest onto the dance floor.
2. VODKA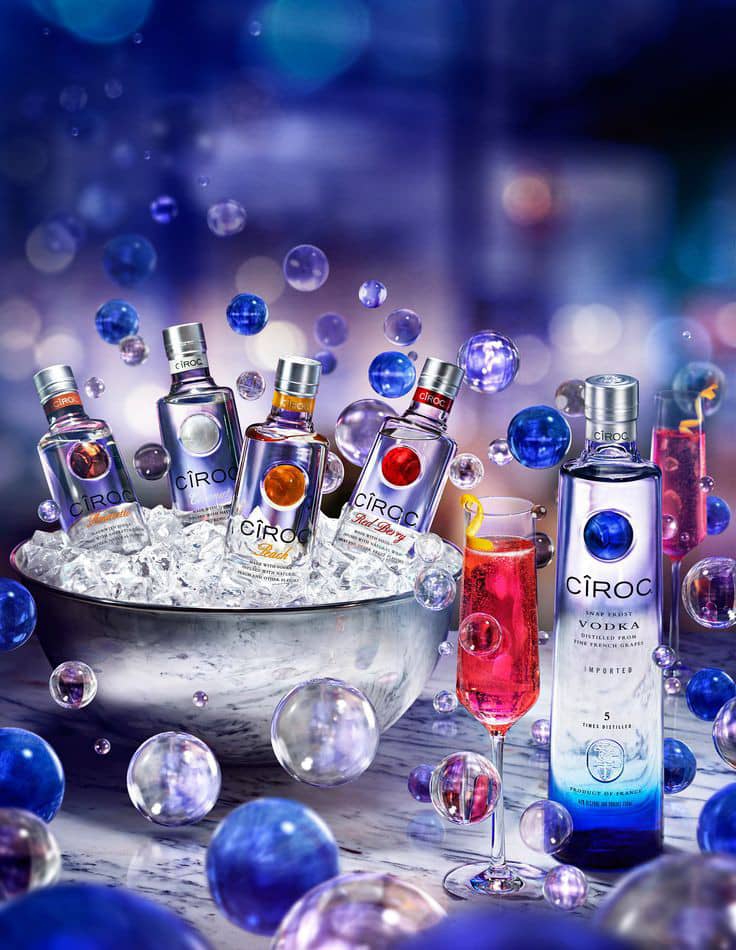 Whether it's cocktails or something as simple as shots, we would strongly suggest you stock up generously on vodka for your house party. Vodka is one of the most popular components of a cocktail and amongst partygoers, it has been known to be the centre of attraction.
Ciroc vodka is one of the smoothest brands of vodka available in the market and is a reasonably priced drink. If you are willing to explore more options you could stretch your search to our vodka catalogue HERE
3. WHISKEY
A very popular alcoholic beverage amongst partygoers, and most especially the young generations. Whiskey lovers rarely settle for anything less, and with a number of choices in the market, this could be a real problem area for a host who doesn't necessarily drink.
Jameson Irish whiskey and Johnnie Walker Red and Black Label is an ideal choice for a smooth drink that blends perfectly into any house party having GenZ and Millenials as their primary audience. Highball cocktails are also a major bang having these whiskies as the base. If you want to go the extra mile to be a gracious host and wish to accommodate even further whisky choices in your party, opt for a single malt whisky such as Singleton Glenfiddich Chivas Regal
4. BEER
There is no party without beer, and there are many good reasons for that! Beer is, of course, the cheapest option when it comes to alcohol, so even if you're on a budget, it's affordable anyway. There are many beer types, and all of them are enjoyable!
Brands such as Heineken Trophy Guinness stout and Guinness extra stout have long been crowd favourites, and you won't need to scratch your head further when it comes to beer.
5. WINE (RED OR WHITE)
The Younger Generations of house parties are not excluded from the list of wine lovers. Red or White, a wine lover will never compromise their necessity for it, most especially if you'll be having them in attendance as your guest, it would be advisable to stock up on some.
Depending on your budget, there are a number of wine brands available if you are looking for something that fills out the criteria of quality and is budget-friendly, we would advise you to opt for 4th street, four cousins. These wines have an impressive range of white and red that will have your wine-loving guests raving about your party in no time.
Here's how you can turn one of the most stressful and nerve-wracking experiences of deciding which Alcoholic drinks to make it to your house party into a cakewalk and bask in the glory of praise, and a roomful of guests with smiles on their faces!
socials
We'll love to hear your opinion and ideas on this subject and also entertain questions/inquiries, kindly share your thoughts in the comment section below. Also, tag and follow us across our social media platforms.
Instagram; https://www.instagram.com/drinksdirectng/
WhatsApp; https://wa.link/o6vdt8
Facebook; https://www.facebook.com/drinksdirectng
Twitter; https://www.twitter.com/drinksdirectng
Source; probartenders.net